I love finding parcels in my letter box or PO Box, and today I wasn't disappointed. I found two parcels that I wasn't expecting.
Ooh the excitement.
The first was from
Tanya
, a fellow Queenslander. It was the mini quilt she made for me for the Name Game Swap. Wow, I hadn't even started sewing mine together for my partner. Tanya was so quick.
flickr
account. The lighting wasn't the best here today.
Thank you so much Tanya.
The second parcel contained these.
Canadian Abroad
very kindly sent me these when I sent her the H R and bird fabrics. I'm so lucky. Now I have to think of the perfect project for them. In the meantime, you may find me stroking them and drooling.
Susan also sent me a needle case. I think she must have been reading my mind, as I have been thinking that I really need one and was going to get around to making one, one day, ahem, cough cough. It's not a surprise is it that I hadn't made it yet, procrastinating once again.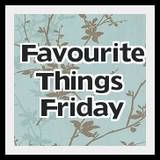 So today's favourite is my fabulous surprise packages. Join in with Shay and see lots of other favourites this week.