It's Friday and that means it's time for Favourite Things Friday.
This week my favourite thing is a present I received for my birthday.
I'm not sure of the official name for it, but it's a type of oil diffuser.
A couple of drops of scented oil are put onto the ring and the ring is placed inside a lampshade and sits around the globe. When the lamp is turned on, the globe warms up and the scent is gently and subtly released from the ring. How cool is that and unless you look inside the lampshade you wouldn't even know it was there.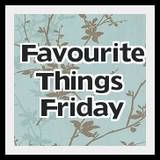 For other Friday Favourites pop on over to
Shay at Quilting In My Pyjamas
.