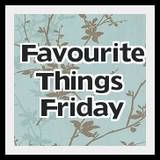 Another Friday rolls around, the year is going faster and faster. This week my favourite thing is some of my jewellery.
Not too far from where I live is the iconic
Eumundi Markets
. Eumundi is pronounced You Mun Dee with the emphasis on the Mun! Many people from all over Australia visit the Eumundi Markets when they are in the area. A while ago I found a lovely lady called Helen that made and sold the most gorgeous bead necklaces. Over time I bought a few from her.
I absolutely love the unusual beads she uses.
The metal fish in this one is so cute.
Bitchypoo knows how much I love these necklaces so she bought me this red one for my birthday a couple of years ago, isn't that nice. Another cute fish in this one.
This last one I bought at another iconic place here on the Sunshine Coast, at Hastings St, I just love the details of this one too.
Pop on over to join the linky love of Favourite Things Friday and share your favourite thing with Shay at
Quilting In My Pyjamas
.